Frequently Asked Questions:

1. What is a connected vehicle?
A CV has equipment that lets it communicate with other vehicles (vehicle-to-vehicle, or V2V), infrastructure, (vehicle-to-infrastructure, or V2I), or everything in the roadway environment, including pedestrians, bicyclists, and roadway hazards (vehicle-to-everything, or V2X). CVs broadcast and/or receive messages that improve driver situational awareness, mobility, and safety (e.g., forward collision warnings, red light warnings). Messages are transmitted via dedicated short-range communications (DSRC), C-V2X (cellular vehicle to everything), or 5G C-V2X. DSRC has led the way among these technologies due to its reliability, low latency use of dedicated bandwidth, and prioritization of safety applications. It has shown great promise for truck platooning and can facilitate cooperative automation or electronically coordinated acceleration and braking. A new FCC rule reallocating portions of the 5.9GHz spectrum will likely lead to automakers focusing on C-V2X and 5G C-V2X for CV applications.
2. What is an automated vehicle?
SAE International Standard J3016 defines levels of driving automation. For Levels 0-3, humans control some or all of the driving tasks, while for Levels 4 and 5 driving is entirely automated.
Advanced Driver Assistance Systems (ADAS) — Levels 0 – 2
Technologies which assist drivers with dynamic driving tasks. Newer systems use data collected from sensors and cameras to facilitate automation and improve safety.
Examples include blind spot monitoring, collision avoidance systems, adaptive cruise control, lane departure warning, forward collision warning, parking assistance.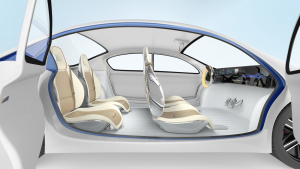 Click here to see video of concept vehicle equipped with automated driving system technology.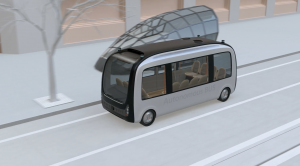 Click here to see video of concept shuttle bus equipped with automated driving system technology.
Automated Driving Systems (ADS) — Levels 3 – 5
Technologies which can assume full responsibility for driving a vehicle under some or all conditions. Only Level 5 systems fully automate driving in all conditions.
ADS-equipped vehicles leverage hardware and software systems that collect and process data sourced from onboard sen- sors,cameras, GPS, radar, sonar, and Lidar.
3. Can consumers purchase fully automated (i.e., driverless) vehicles?
No fully automated vehicles (with SAE Levels 4 and 5 driving automation) are currently on the market. But automakers are rapidly introducing and refining SAE Level 2 and 3 systems. Examples of advanced driver assistance systems include Tesla's Autopilot (Level 2 driving automation), GM's SuperCruise (Level 2 driving automation), and Mercedes-Benz's Drive Pilot (Level 3 driving automation). Drive Pilot is the first technology available to consumers that lets drivers take their hands off the steering wheel and eyes off the road while the system is engaged under certain conditions. Currently available in Germany and in Nevada only. Mercedes-Benz is pursuing state-level certifications in California and hopes to begin rolling out Drive Pilot there in 2023.
4. Are fully automated (i.e., driverless) vehicles available for commercial use?
Automakers, commercial vehicle manufacturers, technology firms (e.g., Waymo), and transportation network companies (TNCs) are testing SAE Level 4 and 5 systems. Fully automated (Level 4), low-speed shuttles are being piloted in many states. These shuttles generally operate on looped routes, with testing focused on passenger experience and how shuttles interact with other motorists, pedestrians, and bicyclists. Vehicles like this may play an important role in solving the first mile/last mile challenge (e.g., getting passengers from transit stops to their final destinations, moving goods from a distribution hub to customers). 
5. What are the SAE levels of driving automation?
6. What do Kentuckians think about automated vehicles?
7. What is Cooperative Automation?